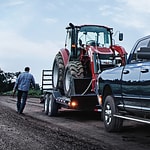 Heavy-duty truck drivers know that durability is important. That's why the Ram 2500 is a popular choice. The Ram 2500 is designed with top capability features. Here's a look at some of the most amazing durability features on the current model Ram 2500.
All top trucks must have a tough frame that will make the vehicle last. That's why the Ram 2500 is built on a 50,000-PSI hydroformed steel frame with additional cross members. This allows the Ram 2500 to handle bigger payload and heavier towing capacity. When it comes to durable engines, the Ram 2500 offers the legendary Cummings diesel engine. This powertrain has a best-in-class 15,000-mile oil change capability.
Get behind the wheel of the Ram 2500 and get more for your money. Visit us at Mike Perry Motor Company and get a top deal on the Ram 2500 of your choice. Don't wait. Our Ram 2500 inventory will go fast.