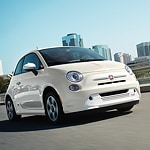 An ever-increasing number of people in Nacodoches and elsewhere in the United States are concerned about the state of the environment. They are interested in taking steps to reduce their carbon footprint. The new 100 percent electric Fiat 500e is a car that is ideal for people interested in improving the environment.
In addition to being all-electric, the Fiat 500e garners high marks for other reasons as well, including its exterior features. The exterior features on the Fiat 500e include halogen projector headlamps that provide brilliant illumination at night. In addition, the Fiat 500e exterior features include heated mirrors. This feature ensures clear vision when motoring in bad weather.
Come visit us at Mike Perry Motor Company and take the Fiat 500e on a test drive. The best way to learn about the Fiat 500e and its features is to get behind the wheel and experience the car for yourself.